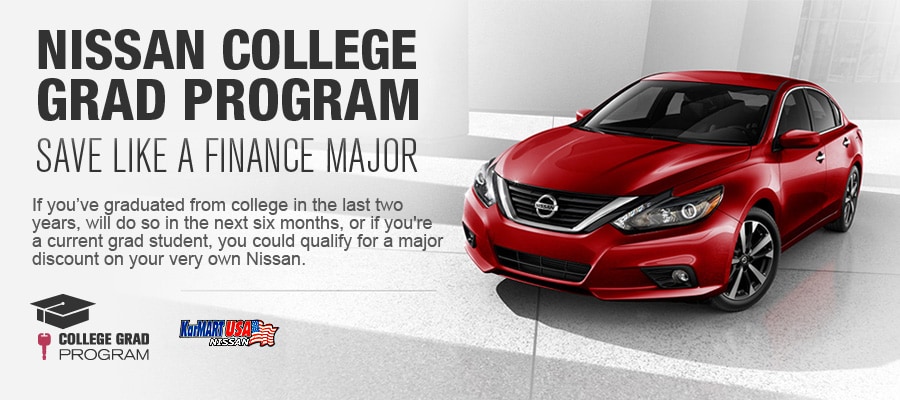 Wouldn't it be cool if you could purchase a NEW Nissan with an easy, stress-free buying experience? With Nissan's College Grad Preferred Pricing Program you can buy a new Nissan for less, PLUS you keep the rebates!
The All-New Nissan College Graduate Program provides the following benefits:
- Simple "No Haggle, No Hassle" buying experience
- Pre-negotiated pricing PLUS all applicable incentives
- Receive one of the best available rates (even if you don't have prior credit history)
- 90-day deferred payment option
College Grad Program FAQ's:
Who is eligible to participate in the Best In Class Alumni & Student Discount?
Individuals graduating within six months or the past two years from an accredited US two or four year university, college, junior college, graduate school, or nursing school (LVN's, LPN's and RN's). All current Graduate Students also qualify.
Which Nissan vehicles are eligible?
New Altima, Altima Coupe, Rogue, Sentra, Versa Hatch, Versa Sedan (exclude S trim), Juke, Xterra, Frontier, & cube.
What is the vehicle discount?
There is simple "No Haggle, No Hassle" Friends and Family pricing. College Grads can buy a new Nissan for $250 under PLUS all applicable rebates.
How do I get the Nissan College Grad Discount?
Fill out your Nissan College Grad Claim form. Bring this form to your salesperson at KarMART Nissan, along with proof of program eligibility, to receive your vehicle discount.
What do I need to bring to the dealer to show proof of program eligibility?
- Nissan College Grad Claim form
- Proof of graduation within the past 24 months or written confirmation of upcoming graduation within the next 6 months
- Proof of current or future employment that begins within 90 days
- Proof of insurance
Can I combine the Nissan College Grad Discount with current incentives?
Yes. Visit KarMART Nissan for details on eligible incentives, or view current incentives here to see how much you can save.
Do I have to purchase or lease through NMAC?
Yes, you must purchase or lease through NMAC to be eligible.
Are dealer-installed options covered by this discount (e.g., theft-deterrent devices)?
No. Any additional dealer-installed options, conversion/up-fit packages, Nissan Protection Plans and other extra-charge items will be supplied at a price agreed upon between the customer and the dealer.
Can I use a trade-in with this program?
Please contact KarMART Nissan for more information about trade-ins.
Does the purchase/lease require a down payment?
KarMART Nissan will be happy to provide details on the down payment of your chosen vehicle.
I recently bought/leased a new Nissan vehicle. Can I still apply for the Nissan College Grad Discount?
No. Previous purchases/leases are not eligible.
How can I find out more about a specific Nissan model?
Stop by KarMART Nissan today with all your questions about vehicle features, pricing, model eligibility, leasing and incentives, and we will be happy to help you.